Home>> PlayStation 5 Spider-Man 2 Bundle
Are you looking to capitalize on some of this holiday season's best Black Friday deals? Swing into Best Buy or browse the web to find this PlayStation 5 Spider-Man 2 video game bundle, the perfect holiday gift for the gamer in your life! You've been saving up your Spidey-cents all year, it's time to get your loved one the hottest game of the year and the most advanced console on the market!
Features:
Haptic Feedback: Feel the power of Spider-Man! The responsive vibrations of the DualSense wireless controller bring Peter Parker's symbiote abilities and Miles Morales' bio-electric skills to your fingertips.
Adaptive Triggers: Master acrobatic moves, execute thrilling combos, and experience the breathtaking excitement of web-swinging traversal through the DualSense wireless controller's adaptive triggers.
Tempest 3D Audio Tech: Become immersed in Marvel's New York as 3D spatial audio creates unique soundscapes all around you. Pinpoint the sounds of webs, bio-electric powers, bustling traffic, responsive New Yorkers, and dangerous enemy attacks.
Ultra high-speed SSD: Experience the power of the PlayStation 5 console with lightning-fast load times for near instant character switching across different parts of the city.
Stunning visuals: Explore beautiful and vibrant new environments, like the boroughs of Queens and Brooklyn, as Marvel's New York is brought to life in spectacular fashion.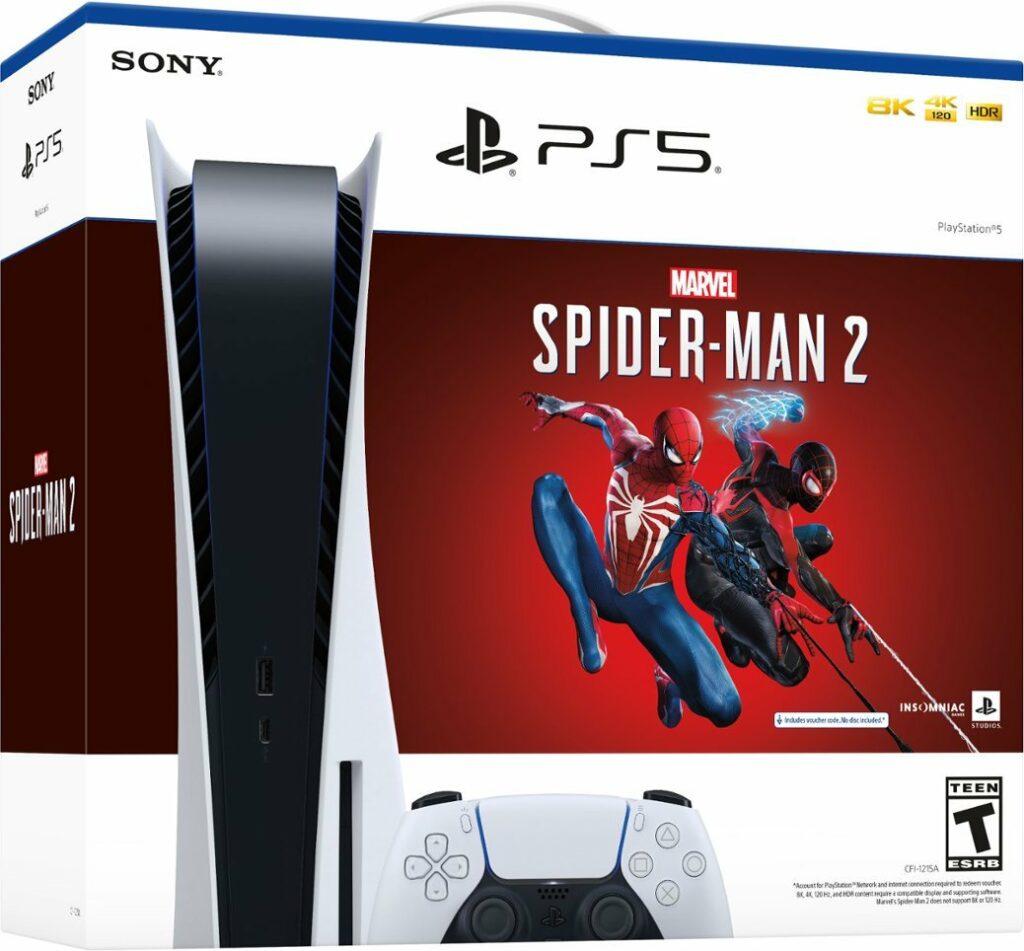 Reviews:
★★★★★
Amazing system! This bundle saved me money for a game. System works really well, it's fast and picture is beautiful if you get a tv that goes well with it. No issues so far. Controller feels beautiful. Please wipe your hands before using. Don't ruin these babies. I wish there was more than 1 TB of storage.
The PS5 is arguably the best console out right now, you couple that with Spider-Man 2 and you've got yourself the ultimate gaming experience. Whether you are taking down bad guys or swinging across the city, you'll have an amazing time with this game and bundle!
★★★★★
Amazing device worth every penny, the crystal clear picture it produces is amazing!
We have a plethora of articles with everything from Diy, Style Tips, Recipes, Renovation, Decor, and more. Check out HomebyGeneva.com